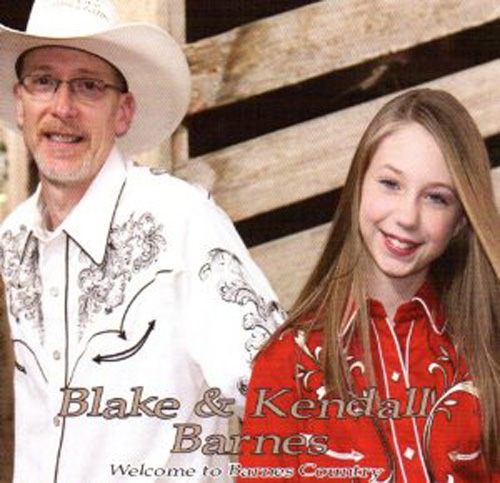 BLAKE & KENDALL BARNES/WELCOME TO BARNES COUNTRY. 2012 release. If you are a fan of traditional, hardcore country this is it. Don't pass it up. BLAKE BARNES has been a top name country music in and around the North Texas scene for two decades and is one of the major acts on the GRAPEVINE OPRY in Grapevine, Texas as well as other Saturday night venues in Southwest Texas. KENDALL is BARNES' 13 year old daughter. While BARNES who is an excellent country singer whose vocals are in the tradition of MEL STREET & GEORGE JONES, his daughter, even though her voice has not quiet reached maturity sings as well if not better than most of the female country stars that originally made these songs hits. Recorded at Heart of Texas studios and produced by JUSTIN TREVINO with instrumentation by the Heart of Texas crew which includes fiddle (Reggie Rueffer), pedal steel(Dickey Overby), electric lead(Charlie Walton), piano,(Tim Alexander) bass(Jake Hooker) & drums(Jim Loessberg) with background vocals by Amber Digby & Justin Trevino. Listing: MY BABY TURNS THE LIGHTS ON UPTOWN...A TEAR DROPPED BY...LOOKIN FOR TOMMORROW AND FINDING YESTERDAY(Mel Tillis cover)...DUMB BLONDE(Dolly Parton cover)...THINGS HAVE GONE TO PIECES(George Jones cover)...BETTER MOVE IT ON HOME(Porter & Dolly cover)...IMAGINATIONS A WONDERFUL THING...AIN'T HAD NO LOVIN'(Connie Smith cover)...ON THE BACK ROW...NOBODY BUT A FOOL(Connie Smith cover)...I CAN'T STOP MY LOVING YOU(Buck Owens cover)...LOVE, LOVE, LOVE ME HONEY DO...LET'S ALL GO DOWN TO THE RIVER(Jody Miller & Johnny Paycheck cover). 12 performances.
Traсklist:
01 My Baby Turns The Lights On Uptown
02 A Tear Dropped By
03 Lookin? For Tomorrow
04 Dumb Blonde
05 Things Have Gone To Pieces
06 Better Move It On Home
07 Imagination?s A Wonderful Thing
08 Ain?t Had No Lovin?
09 On The Back Row
10 Nobody But A Fool
11 I Can?t Stop My Loving You
12 Love, Love, Love Me Honey Do
13 Let?s All Go Down To The River
Bitrate:mp3,320 kbps Size: 76 MB
Download
pass nich